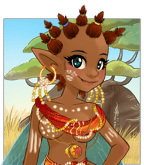 Since the dawn of time, in the depths of the harsh plains, the best sorcerers know where to get the rarest ingredients of all.

To heal all those in need, Fetichor scours the whole savanna to find the elements he needs for his potions. Some say he can resuscitate animals thanks to a few herbs which he is the only one to know about.

And you, will you try and taste his strange potions?




The Fetichor set wass created by BamboO.