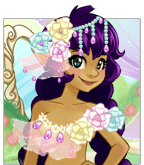 Did you know that even fairies can suffer a burn-out-syndrome? Our poor Blueberry really got it bad. At the end of winter she sat in her tree house, totally unmotivated when watching the bald branches of her home through her window. Nothing but a muddy, rainy weather outside for weeks! There was no other way than feeling somberly. Most fortunately the ponies of the valley did their very best to help their fairy. Star brought Blueberry to Shell Island as fast as the wind. Shell Island belongs to the friendly sea ponies which cared a lot for Blueberry over the last months to cure her so she could regain energies. The fresh marine breeze did her a world of good and so she could return to the village of valley just in time to celebrate the 9th Birthday of Poneyvallée with all her friends. No one wanted to miss out neither garlands nor floral ornaments on this joyous occasion and all the ponies dressed up to the nines to have a party in the wonderfully warm summer sun!

To celebrate the 9th Birthday of Poneyvallée we do not only present a new set after a long pause but also a discount of 50% for the whole shop, including chests and potions. Now you can dress up your ponies for the party as well.

Be merry and celebrate a happy birthday with us!